iDempiere ERP & CRM is a very capable open source enterprise software platform
Why customers are often skeptical about brand-developed loyalty programs?
According to a number of surveys more than ⅔ of retail customers are members of one or more retail loyalty programs. However more than ⅓ of them report that they never actually use the loyalty programs they have been enrolled into. There are reasons for that.
In short, no lasting loyalty program can be built:
without actual loyalty from your customers;
without meeting the core expectations of your customers if your customers are unhappy with their experience in your brick-and-mortar store;
if a loyalty program overburdens customers with cumbersome rules;
if customer gratification is delayed.
The implementation team was lucky enough to work for a brand well known for the quality of its food products and good customer experience in the branded stores, with brand awareness reaching 100% in the regions of its presence.
Another ingredient of the success was complex and robust iDempiere ERP & CRM.
What might be the main objectives of a Retail Loyalty program project?
These were the objectives of this project that the team agreed to pursue:
1. Get beyond discounts to improve profitability
Switch customers from discounts to cashback in points. Whatever customers save in a form of discount they do not necessarily spend in the store of the brand afterwards. With cashback in points it is different which is important in low margin retail.
2. Put your customer in the center
Build relationships around the customer, not a card or a segment. In the course of time her/his card will be replaced by a newer one. But no one is going to replace your customer. Aim to an offer engine of your Loyalty program having up to a customer level precision.
3. Give your customer instant gratification through instant transaction
Ensure less than 1 minute delay in upgrading cashback status of a given customer on the Retail Loyalty Program central server after POS transaction. Cashback must be ready to be used immediately in the next transaction wherever it happens – in the same brick-and-mortar store or in the online store.
4. Hassle-free customer registration is a must
Paper forms and manual processing are no longer acceptable. Customer registration in the Loyalty program must be as simple and immediate as sending one SMS and must happen in most of the cases right in the store.
5. Make the Loyalty program message transparent to your customer
Your price tags should tell the most part of the story beforehand. Receipts printed and handed to a customer should clearly state her/his current benefits and status in Loyalty program as well as the path to future benefits and rewards.
6. Be ready for multichannel and multi campaign operation from the very beginning
Even if an online store is the next year project for you, get your system architecture and logic of the offer engine of your Loyalty program ready for operation across many channels and campaigns – brick-and-mortar stores, online store, mobile application, Telegram bot and, potentially, more.
7. Make your Retail Loyalty Program robust and fast
Plan for maximum daily transactions in your Retail Loyalty Program module with regard to seasonal and festive surges in sales as well as expansion of number of stores. In the case of this project the number was set as 900'000 transactions daily.
8. Analyze this
You will definitely need data analysis to gain insight into your customers and your Loyalty program.
What additional features of a Retail Loyalty Program you may aim for?
The team chose to opt for these goals as well:
9. Every store is a distinct channel in your Loyalty program
Newly open stores or stores of a specific region can benefit from tailored promotional activities.
10. Gift cards
Gift cards sold in stores or given to customers as rewards during marketing activities give you both flexibility and professional appeal in building loyalty to the brand.
11. FIFO method for Loyalty points
Loyalty points that can be accrued and written off on FIFO basis give you ability to later revoke some of them with passing of time if you once choose to. Also, tracing them back to transactions that created them gives you more visibility in your Loyalty program.
What were the challenges of this Retail Loyalty Program project?
Historically, these 300 stores operate on a franchise basis but make independent IT decisions which resulted in a highly diversified in-store IT landscape.
Many store owners do not have in-house IT expertise.
These 300 stores are scattered in area of ~450'000 sq km which roughly corresponds to the area of Spain.
The timeline of the project was defined as 6-9 month, from planning to rolling out in full in all the stores.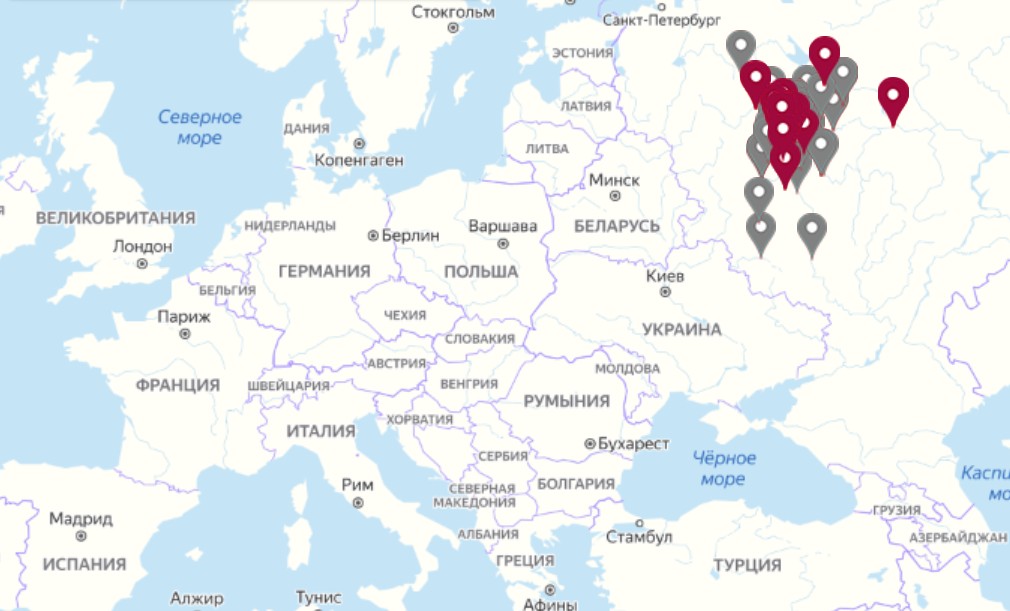 What were the strengths of this Retail Loyalty Program project?

The project team was both experienced and enthusiastic.
Most of other strengths of the project came from iDempiere ERP & CRM itself:
Strong retail and promotion functionalities of are already present:

Business partner Tab and its many subtabs (Contacts, Locations, Interest area and 2 dozen of others);
Promotion Tab and its subtabs (Pre Condition, Quantity Distribution, Reward, Promotion Line and others);
Promotion Group Tab;
Campaign Tab;
Strong GL and Accounts Payable/Accounts Receivable functionalities;
Multicurrency (Loyalty points is just another currency);
Report Cube functionality and Fact_Acct_Summary table;

As always with true open source you are free to add whatever functionality you consider essential for your endeavor.
Scalability. Multiple application servers and load balancing (with the help of open source HAProxy solution) provide speed and stability.
REST web services functionality for integrations via JSON data interchange format is already present.
Schedulers. Robotic processes that run on schedule thousands of times a day is a standard functionality.
Workflow engine is a standard functionality and provides an opportunity for event-driven business process automation across various situations and departments.
In-memory cache possibilities enable fast retrievals of data when overall speed is essential.
'Write to master database, report from hot replica' standard feature lessens the load of production database.
As always with true open source, you can see every bit of the code and the workings of it. You can analyze and improve it if you chose to.
Almost all the stores involved in the project had a stable internet connection at the beginning of the project. The rest of them were able to improve their in-store internet.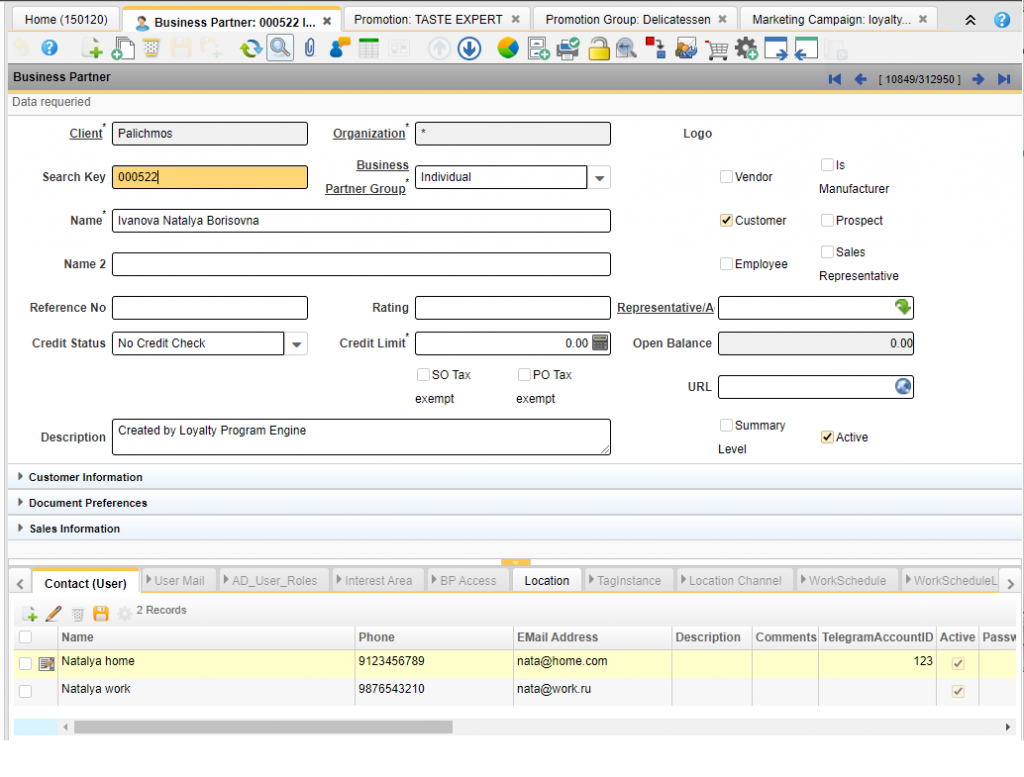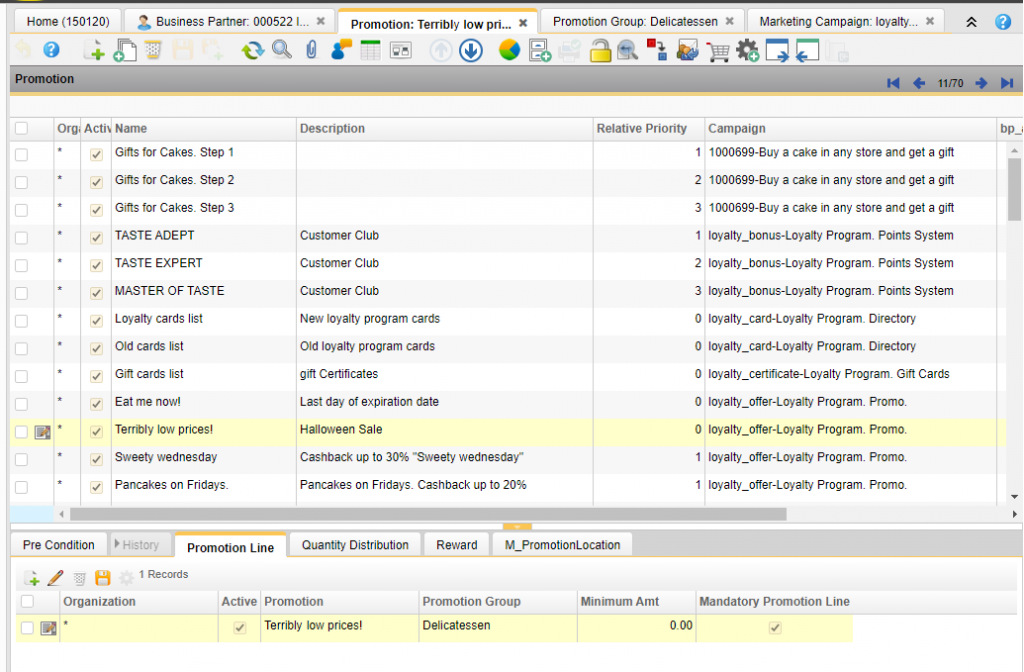 What is the overall system architecture after all?
Every store keeps its own point-of-sale software inherited from the past.
There is a REST API developed in-house for the Loyalty program operation that the stores use.
Customers, their details, their transactions, their balance, their promotions, in other words all the data that constitutes a Loyalty program are stored in a central pool of back-office ERP & CRM.
A point-of-sale software of a store speaks to the back-office ERP & CRM via REST API every time the Loyalty program is invoked and instantly uses the data from it. Even specifics on customer's current benefits and status in the Loyalty program to be printed out in addition to fiscal receipt are sent from the back-office ERP & CRM.
What are the results of this Loyalty Program project powered by iDempiere ERP & CRM?
As of today, 12 months after the start of the active phase of the project, over 500'000 customers have activated loyalty cards.
Three transactions constituting one data exchange between point-of-sale software and the back-office ERP & CRM during a single sale take an average of 50 milliseconds, 200 milliseconds and 200 milliseconds respectively.
All the objectives of the project stated above are considered achieved by the team.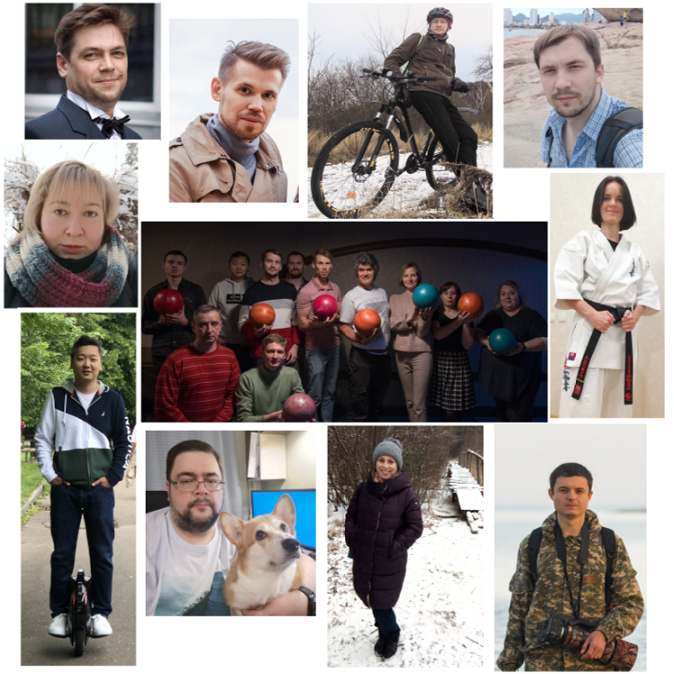 Have your own iDempiere success story to share? Easy.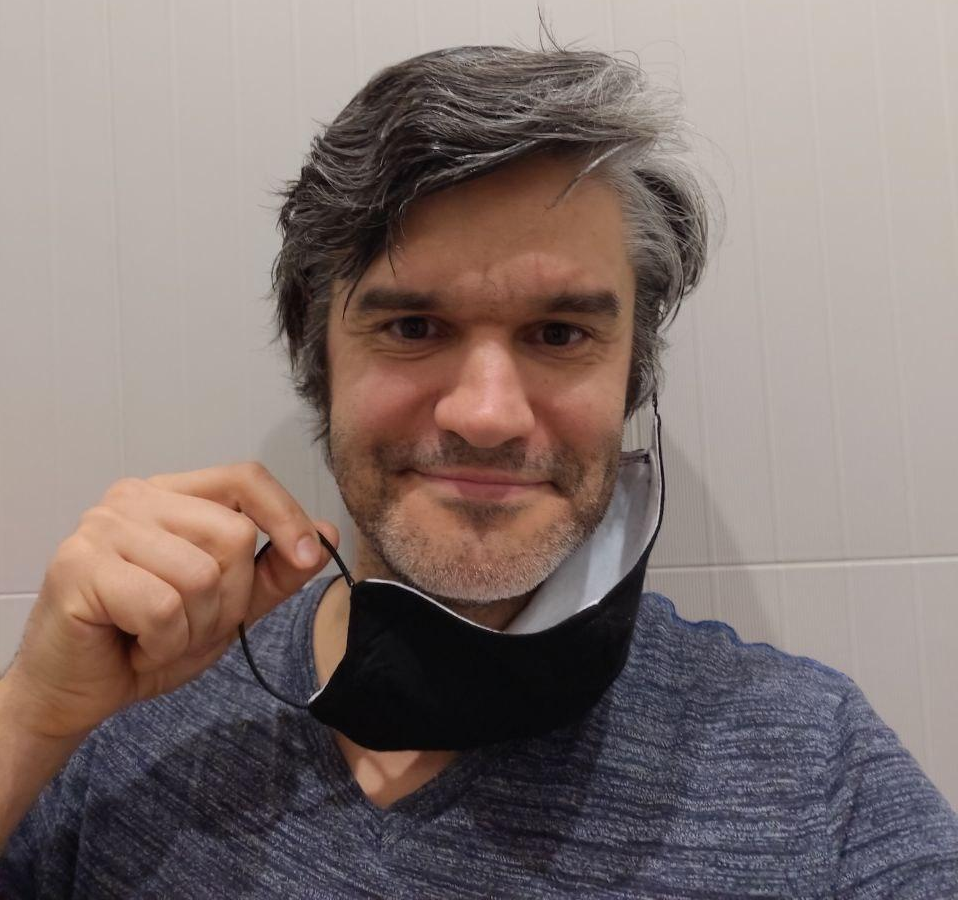 Got a diploma with honors in economics and statistics in the past, loves IT, economics and finance now.